Thrilling Desert Safari in Dubai
Posted On 08-Mar-2021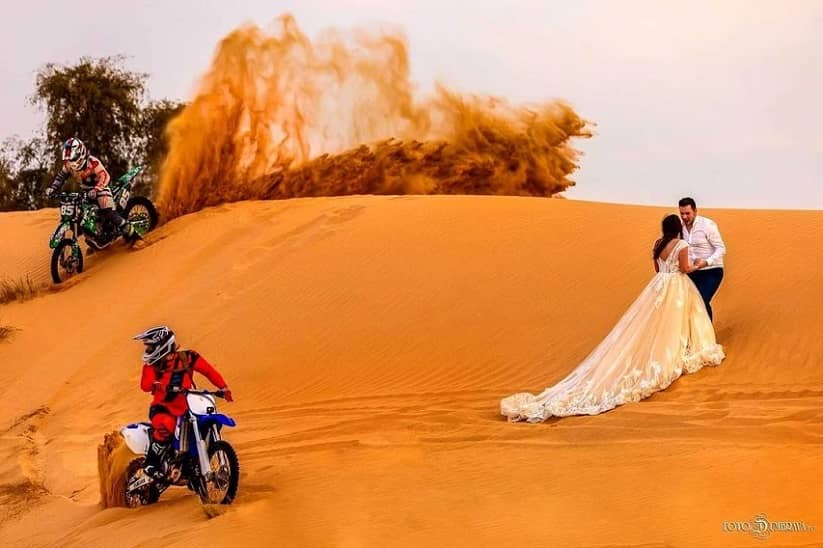 Desert Safari in Dubai tour will let you spend your quality tour to admire the lovely view of the orange sunset. With the thrilling rides, entertaining performances, and BBQ buffet dinner in the bedouin-inspired camp. This desert safari in Dubai is based on different types of rides, duration, customized private facilities, etc. From Dune bashing on high red dunes of Arabia, & Camel ride to Belly dance shows, Henna designing, & Arabic costume photography, you will get numerous magical surprises. This trip gives you the most adventurous experience. All you need to do is just make a reservation at least 24 hours before the desired date. So, without any further ado, let's check the tour insights.
Desert Safari Dubai Tour Insights
Pick up and Drop Off:
Desert safari trip starts from pick up from standard location by bus or 4X4 Vehicle from Doorstep/Hotel in Abu Dhabi, Sharjah & Dubai city. Which depends on your desire or budget. Your picking journey will be towards the desert meeting point. Where you will get to admire the thrilling rides in the Arabian dunes.
What are the Thrilling Rides in the Desert Safari Dubai?
At the campsite, you will get to experience many adventure activities. Here are the things to do in desert safari Dubai.
1- Dune Bashing:
Dune Bashing is one of the forms of thrilling off-roading done on the high red dune of Arabia. This off-roading is practiced by expert licensed drivers. Besides, to ensure the guest's safety the vehicles are roll cage covered and attached with the safety features.
2- Camel Ride:
Camel riding is a lasting part of the Arabic tradition. Back in the old days, it was supposed to be a transport for Bedouin people. That's the reason many tourists visit and explore the Ship of the Desert and experience how the Arabs were used to travel.
3- Horse Ride:
Just like camel riding, horse riding is also admired by international visitors and locals.
4 -ATV Quad Bike & Dune Buggy:
These rides are supposed to be designed for adventure enthusiasts. So, they could explore the Arabian desert via ATV bike or dune buggy. These rides provide a pure thrill to adventure lovers.
5- Falcon Photography:
As you know, Falcon is a national bird of the UAE. This desert safari allows tourists to hold a falcon and make tons of pictures with it as a memorable moment.
Bedouin-Inspired Camp Insights
Once you're done with these adventurous rides, you will get to admire the facilities in the camp. Whereas the camp will give you an instant feel of Arab traditions. The facilities, which the tour guide will let you cherish are as follows
1- Complimentary Snacks & Limitless Refreshments:
Once you are settled down, you will be greeted with free snacks and unlimited tea, Arabian coffee, and soft drinks.
2- Live Entertainment Shows:
Now, this is the best and worthful part of a desert safari in Dubai. Travelers will get to enjoy the electrifying performances. Such as Belly dancing, LED & Classic Tanoura shows, and the Thrilling fire shows. Which is performed by international artists.
3- Henna Designing:
This opportunity is crafted for girls and ladies to make a beautiful henna tattoo by professionals.
4- Arabic Dress Photography:
By getting up in the Arabic dress, both men and women can click pictures as a memorable moment. for free.
5- BBQ Buffet Dinner:
People from all over the globe visit Dubai to experience this tour. Where most are hardcore vegans and some are non-vegetarian For this reason, the buffet includes a wide range of vegetarian and non-veg Arabian cuisines with a variety of barbeques. Where the BBQ station is placed outside and a veg buffet is arranged inside the camp.
6- Drop Off:
At the end of your journey, you will be dropped safely at your designated location, where you will be picked up.
How to Book Desert Safari Dubai?
If you haven't booked yet, then this is the right time for that. This tour comes with the best-customized package. So you can include and exclude the rides or transport facility as per your desire. With just one click, you can make the booking. All you need to do
Make an online inquest via our website
Contact us via tab to Tab to Whatsapp
Make us a telephonic call on 00971-55-9543444
Our representatives are available 24/7, friendly, and will gladly assist you in selecting your ideal package at a pocket-friendly cost. So without any hesitation, feel free to ring us up at any time
Mode of Payment & Benefits:
Cash while pickup
Online payment via Bank Transfer
Buy a voucher on the website, which can be used within a year.