Best Desert Safari Dubai with Dune Bashing
Posted On 09-Feb-2022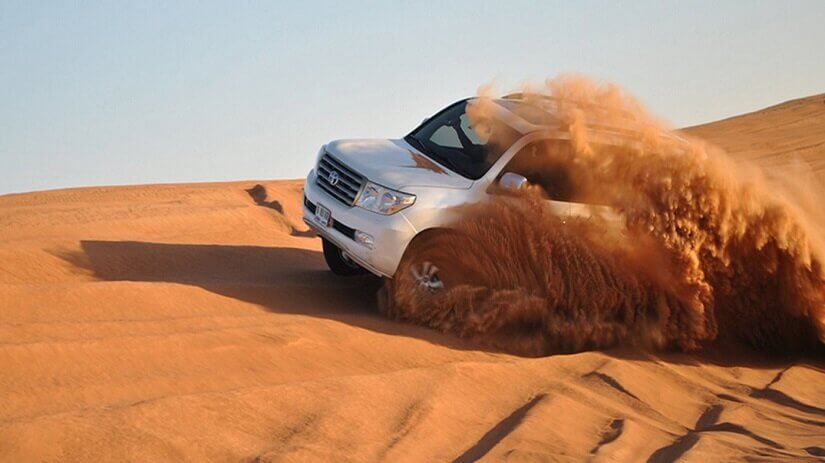 Best desert safari Dubai is a thrilling combination of dune bashing and multiple sand activities on high red dunes. The Arabian sand in Dubai is a serene, beautiful and primitive landscape that's a must-visit attraction. For anyone who comes across the United Arab Emirates.
On the other side dune bashing is a perfect deal of fun, however, it is not suitable for everyone. But the good thing is desert safari Dubai has more electrifying things to do for international and local visitors to give them a majestic, pristine and sprawling experience.
Moreover, breathtaking scenery, rich subculture, exotic wildlife and adventurous dune bashing are offered on the high red dunes. Where dune bashing is experienced under the supervision of licensed professionals. Besides, the 4X4 vehicles are equipped with safety features. However, we have the best morning, evening and overnight desert safari that comes with high-quality dune bashing and other sand activities on high red dunes.
So are you excited for a more romantic, exciting and best desert safari Dubai? Which comes with the Live Belly dancings, Tanoura & Fire shows and a delicious BBQ buffet dinner under the stars. Desire to experience the mysterious and rich side of the high red Arabian dunes?
Check out our Best Desert Safari Dubai with BBQ Dinner
1. Dinner in the Bedouin Camp:
We offer our best desert safari Dubai complete with mouthwatering intercontinental and Emirati food. After enjoying the physical sand activities, such as dune bashing, ATV Quad bike, sand boarding and camel ride. Focus on the delicious dinner that comes with a wide range of options of veg and non-veg food. Have dinner at the Bedouin camp while enjoying live entertainment shows.
Including the electrifying performances of the belly dancers shaking their bellies, the LED & Classic Tanoura show. Where the performers twirl like a spin and the adventurous fire shows. Where the stunt man plays with the fire and surprises the audience with his skills.
Ladies and girls get their hands and feet painted with soothing and delicate Henna tattoos. However, this tour can be customized in the evening and overnight time. However, we also provide early morning and morning desert safari. Which include an exploration of sunrise, thrilling sand activities and delicious lunch service with refreshing beverages.
Grab some exotic sand art from the shops in the Bedouin camp and bring some amazing tour memories to your home.
2. Luxury Dubai Desert Safari:
The Luxury Dubai desert safari comes with lavish services and private pick & drop services. Where the guests get to facilitate the VIP table service, which includes all the refreshments and BBQ buffet dinner is served on the table. We also make a separate Arabian themed camp setup as per your demand. On the side, the live BBQ dinner is prepared by the best chefs in town.
In short, you have a full opportunity to include and exclude the sand activities and Arabian camp services in your package. Where a wonderful private dinner or lunch based on your tour variations. We welcome you to take you to the best places on the high red Arabian dunes. Where you're eligible to admire the breathtaking sunset or sunrise views This luxury or VIP or Private safari will be remembered for a long time.
Some Best Hacks and Tips for Desert Safari Dubai:
1. Dress Code:
It is best to put on loose-fitting and comfortable cotton clothes. Since the temperature remains high in the afternoon. But on the other side, you would feel mild cold after sunset. So it is sensible to bring a shawl, light upper coat or jacket for the evening or night time.
2. Skin Care:
If you're struggling with sensitive skin, don't forget to do mild skincare before contracting with the sun. Like, if you're contracting with the sun, make sure you put on a hat, mask or apply a good amount of sunscreen.
3. Cash:
Although you would make a tour payment at the time of pick up. But it would be too good to bring some cash with you. So could buy some goods from camp shops and avail some additional or paid sand and camp activities.
4. Be Patient:
Sometimes you can wait for the sand activities due to the crowd. So be patient and wait for your turn to ensure peace around everyone.
5. Footwear:
It would be great to wear open footwear, such as sandals, flip-flops etc. Avoid putting on closed footwear because it's hard to walk on the sand.
6. Safety Precautions:
Always listen to the safety precautions while experiencing sand activities on the high red dunes. Such as dune bashing, Camel ride, ATV bike, Sandboarding or dune buggy ride.