Is Summer in Dubai Enjoyable?
Posted On 25-May-2022
Yes, summer in Dubai is absolutely enjoyable. Also, you will have a variety of places where you can explore in Summer. The fact is the golden city of UAE reaps the hottest in the summer. Actually hot. Like if we measure the hotness, the temperature goes to 50°C (122°F). But is it however worthwhile to plan your summer vacation? Because some people love to get tan. So for this, they visit and enjoy every single outdoor activity. Such as a desert safari Dubai. On the other side, there are some budget limited travellers. Who come across just because of the reasonable ticket price. So they can enjoy the indoor activities. Even a longer outing of summer in Dubai over the first six months.
They can enjoy the indoor activities, such as the Museum of Illusion, museum of the future, theme parks etc. Yes, it's getting sweaty hot if you explore Dubai in summer. However, it's also a golden city founded to handle drastic weather conditions. A holiday of summer in Dubai may not be as severe as you believe. We are here to let you aware of all these happenings in Summer. let's watch what you can predict. Like is that truly enjoyable for you or not.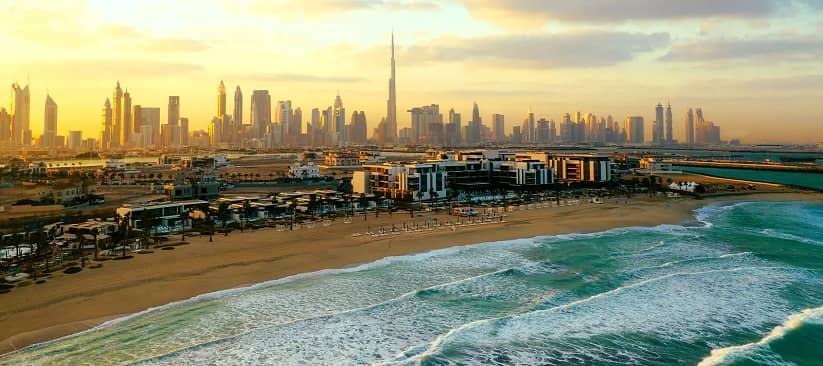 Summer in Dubai Survival Guide
In this blog, you will get to easily know what to anticipate during summer in Dubai tourism. We drive you through;
How hot does the Temperature go in summer?
Whilst the first six months normals are documented at 45°C (113°F), it is relatively normal to encounter daytime utmost up to 50°C (122°F). The heated months of the year are May to August in Dubai.
These months in the golden city of the UAE realistically drive from May until September.
What do you realise in the city of gold? and what is documented in the maxima of summer?
These can also be two different aspects! You desire to grab into summary, not just the temperature but also the moisture as well. It enables if you remember a weather app that provides you with the "senses" of the temperature too. It inclines to be additionally apparent in the recent half of summer. Which is from July to September.
It's also crucial to broadcast that full night. Although you don't reap the influential warmth of the sun. The temperatures don't decline certainly below 86°F or 30°C. You can see and perform a bunch additional after nighttime. Without the appearance of sun or Afternoon time. However, be practical about what can be fulfilled overnight as well.
How to Deal with the heat in Dubai?
Dealing with the heat of summer in Dubai for maximum international visitors is not almost as impossible as it might come across. Because this is a city of gold where every type of international visitor come across. Most Asians have an issue regarding the heat and getting tanned stuff. On the opposite side, people love to explore the city and enjoy pool time in Summer.
Firstly almost every attraction is air-conditioned to the utmost. No matter whether you travel during summer or winter. You will conduct at an airconditioned airport. Besides, drive to the hotel in an air-conditioned taxi, car, Uber or Metro train. Also, arrive at air-conditioned lodging. You won't believe it but the bus stops are also air-conditioned in multiple locales!
The similar cannot be said for the pond or pool. Nonetheless, You will expect to be aware that the Gulf sea's salty waters can be too heated for swimming. However, over summer, the temperature of about (32-35°C). It will realize further like spa water as a compared exciting vacation.
Also, in prosecution, it isn't apparent, that the Arabian sand evolves excruciatingly hot during that time. It only seizes charring sand evolving arrested in your boots or flip-flops. So if you explore a desert safari tour. Then go for an overnight desert safari or early morning desert safari.
Dress code for the Summer Season:
You should constantly dress with a full sense of grace for the heat. But before making sure to not have any misunderstandings. That probably women or girls want to be putting on a full head wrapping or known for burkha or abaya. This compromises ideally putting on loose cotton clothes that are admirable yet. We got some classy outfit ideas that you can wear.
Travellers desire to report the discrepancy between "resort wear" and around public wear. However, this comes across to have loosened over the years. As an indication of respect, save the thin clothes and bathers merely to the beach and pool.
When stepping through the hotel's public neighbourhoods. Such as malls & restaurants. Also on public transport, you must dress respectfully as this golden city of the UAE is a Muslim country. Whereat least, try not to reveal your skin too much in Public. This rule is must follow for the ladies.
Squeeze with rayon or cotton and comfortable materials. Unnatural materials will evacuate you into an entirely extra hot sweaty trash.
Temperature declines between outer and inner air conditioning can be drastic. Prepare for no mistake you will still need to store a market, shawl or any kind of wrap for the explosions of cold find indoors.
Where to Visit in Summer in Dubai
Whilst numerous seasonal likings may be neared, there's still enough alive indoors to admire the winter or summer in Dubai over the months.
1- Burj Khalifa and Dubai Mall
One of the largest malls and the world's tallest building yet retains an enormous proportion getting on over winter and summer. You could consume a few days here and not miss exploring the following things to do! Chilling in the heart of the "Downtown area", some of our neighbourhood includes.
Dubai Aquarium & Underwater Zoo
Burj Khalifa Observation Deck
VR Park
Kidzania Dubai
Evening fountain show
Dubai Ice Rink
If you're visiting with children. Then don't miss the giant Hamleys store and The Toy Store found in the basement. Where your kids will get to enjoy a bunch of entertainment for free.
2- Mall of the Emirates:
Simple to attain on the Metro (adapt caption end Mall of the Emirates), settle about half an hour away. It is relatively nearby for those living at any point of the Jumeirah Hotels. Also barely about 15 minutes out from the Marina or JBR area.
Ski Dubai & penguin encounters
Magic Planet
Dreamscape
Vox Cinema
City Centre Mirdif:
Arranged south of the golden city of the United Arab Emirates. This is a tremendous suburban mall stored with leisure and eating out selections. However, you will not find it on the Metro. For this, you'd book an Uber or Taxi. Why not experience an attempt
if the inner flying simulator
Sky Trails & Climbing Wall
Time Square:
A tinier population Mall that's given a limited clue pleasure amusement interests for summer as well as winter. You'll uncover it on the Red Metro cable
Adventure Zone by Adventure HQ
Chillout Ice Lounge
The Finish Line:
We can't demand sufficient that being hydrated is important! If you do a chance to stroll outdoor in the daylight heat, grab protection, and be practical about how distant you can get on. Also, install the Uber or Careem app on your device. This will help you more.