Yas Marina Circuit in Abu Dhabi is a racing enthusiast's paradise
Posted On 07-Nov-2023
The Yas Marina racecourse is located on Yas Island, about 30 minutes drive from Abu Dhabi. It is unique in that it allows you to venture outside of the racecourse. A hotel, a house, a water park, an amusement park, and the beaches are all great places to be.
Racing fans will love this thrilling journey. This course, created by renowned racer and architect Hermann Tilke, offers the best Formula One drivers in the world with thrilling challenges.
Yas Marina Racecourse in Abu Dhabi: Exciting Features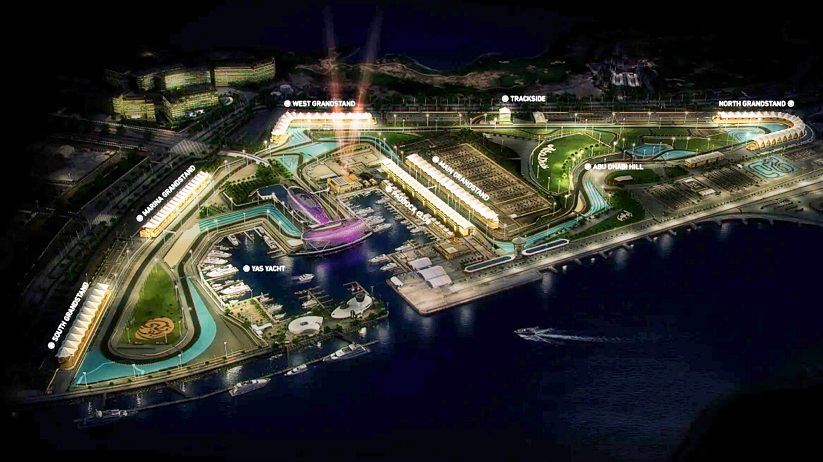 The amazing track with 21 twists was meticulously designed by the circuit's talented designers. Admire breathtaking views of the Yas Hotel and the shoreline of Abu Dhabi as you navigate these curves.
This track is distinguished by the distinct qualities of each bend. The track is home to five grandstands: North, South, Main, West, and Marina. Among the additional amenities are the Dragster Track, VIP Tower, Media Centre, and Team Building.
Here are a few crucial facts regarding this circuit:
At the prestigious Yas Marina Racecourse, Lewis Hamilton has amassed five noteworthy victories. Viewers are treated to breathtaking views of the opulent yachts berthed in the Marina from this 5.5-kilometer course.
This circuit is well-known for having the longest straight section in the world—1,173 meters. While maintaining an average speed of about 190 km/h, racers can achieve amazing speeds of up to 325 km/h. Drivers have to finish 55 laps to demonstrate their abilities.
Where's the best place to watch the action during the race?
The track's official website offers thoughtfully designed options for each fan, resulting in an exhilarating experience that is similar to traveling across the Abu Dhabi desert. Every grandstand has 60,000 seats and provides amazing views.
There are six main viewing portions in each of these seats. South Grandstand at the 11th turn is a great place to watch exciting overtakes by Formula One vehicles. Another place where drivers compete fiercely for places is Abu Dhabi Hill.
An Overview of Yas Marina Circuit and Key Information:
This 5.55-kilometer track spans around 161.9 hectares of land, of which 1.14 kilometers is a straight stretch.
This circuit was designed by the well-known designer Hermann Tilke, who has a wealth of experience in producing internationally recognized music.
Over 35 million hours of devotion bor from the workforce and an astounding $1.3 billion were needed for the development of this circuit.
This track has seen many thrilling Formula One races throughout the years, notably the Abu Dhabi Grand Prix.
This racecourse is surprisingly large enough to hold 50,000 spectators in comfort while providing shade from the intense summer heat.
Also Read: Dubai Gold Souk
Discover Who You Are at Yas Marina Circuit
Occasion Driving a Supercar:
This racecourse offers a rare opportunity for you to experience driving a Formula One vehicle. You may choose from a variety of Formula One cars with Drive YAS, including popular models like the Mercedes-AMG GTS, Aston Martin GT4, and Ferrari 458 GT.
You will receive a valuable 20-minute encounter with this amazing opportunity, which is guaranteed to be one of the most memorable events of your life. If you're more of a speed freak, Dubai has thrilling karting experiences that promise to be incredible.
Peek Go-Kart Event
For karting lovers of all ages, YAS Kartzone offers an up-close and personal look at the thrilling world of karting. They provide track karting enthusiasts with karts and all the necessary equipment, giving them a rare opportunity to watch excellent karting action on the track.
Take an Evening or Nighttime Stroll on the Track
This change offers a once-in-a-lifetime chance to enjoy starry nights and peaceful sunsets. The circuit changes dramatically when night falls and is embellished with captivating lighting. It's important to note that the route is still accessible for exploration and enjoyment day or night, allowing people to take their time taking in its beauty.
Take in the Excitement of Formula One Racing:
Here is where you can purchase tickets for the thrilling Formula One Grand Prix events. Without a doubt, it's the most captivating feature of all the attractions in Abu Dhabi.
Simple Access to the Location:
It's easy to get to the well-known Yas Marina Circuit. Every day from 9 AM to 9 PM, the Yas Express, a free transportation service, is open for pickups and drops. As an alternative, you can choose from among the reasonably priced taxi services that offer easy access to the entrance of the track.
Entry tickets:
Tickets for Yas Marina Circuit admission
You will have to pay for tickets to enter the Yas Marina Circuit. Depending on the grandstand of your choice, entrance might cost anywhere from 119 AED to 477 AED. Remember this when organizing your trip.
Visiting Timings:
Attend Racing Events for the Best Experience
For the best experience, it is highly recommended to visit the circuit during a racing event. Certain times of early morning arrival guarantee a more seamless visit and lessen the likelihood of running into big crowds.