Sharjah Desert Park - A UAE Desert's Secret Treasure
Posted On 07-Sep-2022
In the previous few decades, the towns of Abu Dhabi & Dubai have gripped the top of the attention and notoriety of UAE-bound international visitors and locals. Both regions have sufficient justification to circulate the fiction of their splendour worldwide. But, there is another city in the United Arab Emirates that is chock-full of ancestry and recognition. The region, the third-largest emirates, is considered the third-largest one. Besides, it is the fourth largest among the seven emirates of the United Arab Emirates. That fantasises about the UAE, Its neighbourhood in Dubai city creates a helpful travel goal.
This city has multiple things to do and places to explore. That is certain to keep every visitor immersed in Fun and thrill. One extremely amazing place to provide both fun & thrill is the Sharjah Desert Park. This Sharjah Desert Park is a precise attraction to visit with families, friends & wildlife fans alike. This guide communicates additional respect for Sharjah Desert Park.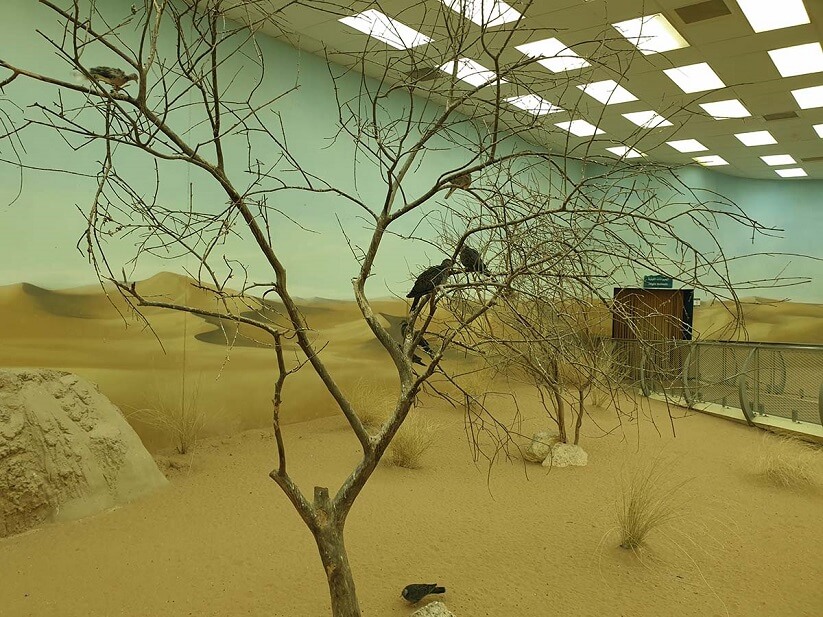 Sharjah Desert Park - Detailed Overview
Facts to Discuss:
The ideal time to explore - Between December, January and February
Visit period - 4 Hours
Nearest Bus Stop - Al wasit road, Al Qassimi Hospital 2
Timing:
From Saturdays till Thursdays: 9:00 AM - 5:30 PM
On Friday: From 2:00 PM - 5:30 PM
The Sharjah Desert Park remains closed every Tuesday.
Must Experience Places:
Arabia's Wildlife Centre
Natural History & Botanical Museum
Botanical Garden
Children's Farm
Location:
Dhaid Road, Interchange #9, Sharjah, United Arab Emirates
Also Read: Best Shawarma Near me
Why You Should Explore Sharjah Desert Park
Sharjah Desert Park is a huge portion of land in Dubai city. It has been renovated into an amusement refuge. The garden is extra than only a niche to have entertainment. It is also a position to understand the brief of Children's Farm, Arabian Wildlife Centre and Natural History Museum. These are the three central places to explore in Sharjah Park. Moreover, you will find several activities to explore on this 1 square kilometre of territory. It is reasonable for visitors of every age group.
This Sharjah Desert Park was established in the year 1995. As a conservation hub for the country's sensitive flora and fauna in the Seih Al-Masmout Reserve. Along with a wonderful botanical garden and a formal petting farm. As well as breeding installation for foreign Arabian desert animals. That is liberated from their jeopardised environments. It also has been formulated into an animated edutainment hub adequate for weekend landings. Meanwhile, the breeding centre remains closed to the widespread public.
5 Facts That let you Explore Sharjah Desert Park
Sharjah Desert Park is one of the main wilderness grasslands in the entire United Arab Emirates.
Sharjah Desert Park furnishes educational encounters for fresh and experienced individuals.
Arabia's Wildlife Centre is famous as the residence of isolated indigenous animals.
Endangered Arabian Wildlife at the Breeding Centre is accountable for enabling a sensitive variety of Arabia to leap back.
Islamic Botanical Garden shows numerous plant varieties that have been exemplified in the respective Holy Quran.
At the Sharjah Desert park, Children's Farm facilitates kids to please the animals. They are existing within the compartments.
Places to Explore in Sharjah Desert Park
Here are a few of the best places to explore in Sharjah Desert Park. That you must glimpse on your trip.
1. Natural History & Botanical Museum:
Natural History And Botanical Museum bring travellers through the historical narrative of the flora and fauna of the region. It is distributed into numerous zones. Graphic instances of the city's several environments are encompassed to indicate. That is how the regional flora and fauna have withstood over the period. The portion on Arabian wildLife illustrates their atmosphere and ascertains. That is how breathing organisms adapt to reside in severe Sahara settings. A trip through Moment shows maps of the excursion of the world.
2. Arabia's Wildlife Centre:
Arabia's Wildlife Center is one of the most tempting in Sharjah's desert park. It was unlocked in 1999 by His majesty Sheikh bin Mohammad Al Qasimi, the leader of the third-largest city in the United Arab Emirates. It is believed to be the UAE's initial educational centre that also fulfils a heart allowance. Arabia's Wildlife Centre teaches international visitors about the assortment of living varieties in the neighbourhood. Aside from exploring animal species, the Wildlife Centre furnishes essential knowledge about every animal. Via audio recordings and academic conferences.
Also Read: Dubai Dolphinarium
3. Children's Farm:
The Climate and Protected regions Authority gave the groundwork. For the Children's Farm at Sharjah Desert Park in the year 1997. It's a tremendous relief for new kids to meet with domestic birds & animal species. In the plantation's outside area, kids can feed and pet their beloved birds and animal creatures. Kids may feed trained animals containing sheep, cows, goats, camels and Arabian horses. To familiarise them with regional birds & animal species. Visitors of all age groups will immerse themselves in awareness by holding up circumstances and workshops.
4. BCEAW:
The Breeding Centre for Endangered Arabian Wildlife was ascertained to protect sensitive animals from demise. This contemporary centre encountered in Sharjah Desert Park utilises science and research. In order to benefit from the breeding of almost 200 varieties of sensitive Arabian wilderness. However, the hub is not available to the public, you can detect these creatures at only Arabia's Wildlife Centre. From which is the straight second door. This should be one of the top things to do on the best-experienced city tour for any nature fanatic.
5. Islamic Garden:
The Islamic Botanical Garden is a beautiful green area with almost 100 species of plants. Containing Saffron, pomegranates, and figs. Along with the paved walkways, narrow canals and ornamental ponds are motivated by established aflaj. The Islamic gardens strive to motivate inspection. You can grab a stroll around the floors and end by the understanding hub. Which has displays and interactive shows.
6. Botanical Garden:
The Botanical Garden is an ingredient of the Natural narrative & Botanical Museum. It encompasses 91 multiple city-particular plant lineages. Aside from aboriginal flora, the neighbourhood is an excellent spot to memorise regional mud categories. The Botanical Garden is one of the top aesthetically fascinating ingredients of the Sharjah Desert park. It is persuading a bunch of flora fans from all over the planet.
Sharjah Desert Park Ticket Price:
The ticket price is 15 AED for adults and 5 AED for kids (plus 12 years). However, those kids aged under 12 years old are free of charge. It provides you entry to the whole land which encompasses Arabia's Wildlife Centre, Natural History & Botanical Museum and Children's Farm In Sharjah Desert Park. As well as, Breeding hub For susceptible Arabian wilderness, and an Islamic Botanical Garden visit. Besides, if your excursion group comprises children, this ticket permits access to the Children's Farm. From there kids in your group can pet and tour a rare animal. Such as donkeys, camels, ponies, Arabian horses, cows, sheep and goats.
Luxuries:
Indoor Air-conditioned lookouts are accessible.
A bistro is recent within the park premises for you to enjoy a treat.
Animals can be analysed from inside the diner.
A mosque is available within the Sharjah desert park premises for everyone to pray during your tour.