Dubai Marina Walk - Unleash the Wonders
Posted On 24-Oct-2023
People from the neighborhood and tourists frequently congregate in Dubai Marina, a captivating location in the heart of the city with big buildings all around. It's a wonderful location for a leisurely walk, making it ideal for a peaceful vacation. We appreciate your time and will be back shortly with more fascinating information.
Also Read: Deira City Centre
An Exciting Journey: Discovering Dubai Marina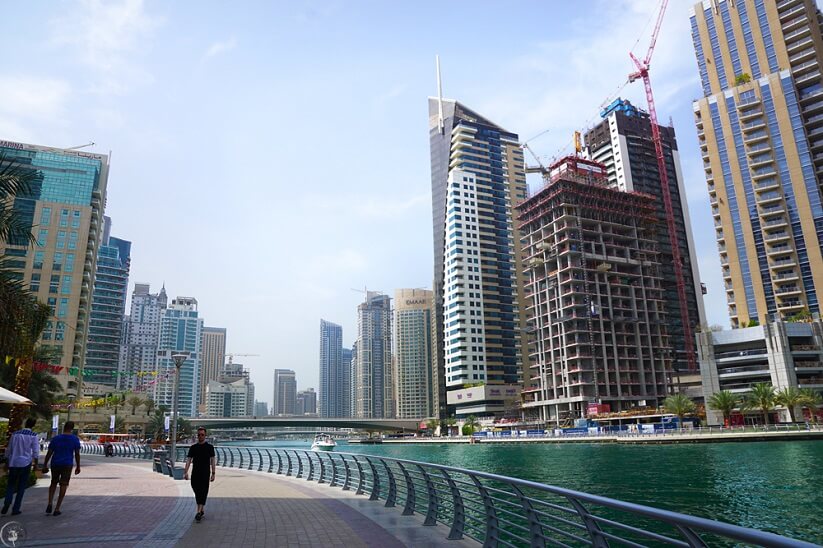 Discover this lovely beach promenade lined with elegant date palms. It provides undeniably spectacular vistas and is the ideal location for private family get-togethers. It is strongly advised that you visit this location while in Dubai city.
The relaxing winter weather allows you to enjoy the Walk at your leisure. It is advised to start your stroll after sundown on hot summer days.
Watch the musical fountain's mesmerizing nightly presentations, where it dances harmoniously. Don't forget to bring your camera so you can see the mesmerizing beauty of the neighborhood.
If you're taking the bus to Dubai Marina Walk, get off at the Jumeirah Bus stop and continue walking for an extra five minutes. You may also easily get around by vehicle, tram, or metro. The region is simple to travel, and the helpful people are on hand to aid you if you need it.
Learn about the thrilling sights in and around Dubai Marina. Look at this helpful list.
1. Mosque Tour
Consider stopping by Al Mulla Mosque when strolling along Dubai Marina Walk, particularly in the evening when it is exquisitely lit up.
Also Read: Fish Market Dubai
Join a free guided tour of the mosque to learn about various Islamic practices and the fascinating history of the structure from a knowledgeable guide. Prepare yourself to learn about the mosque's rich historical and Islamic traditions.
2. Yacht & Dhow Cruises
Take a boat trip or a magnificent Dhow sail to enjoy the breathtaking scenery of Dubai Marina Walk. Expect a stunning journey filled with unparalleled beauty and never-ending entertainment.
As you go around the area, indulge in a romantic supper cruise beneath a sky filled with stars. Delicious dining selections, captivating Tanoura and Belly dance performances, and a wide variety of onboard entertainment are all features of these cruises.
3. Play Areas for Kids
Visit the family-friendly locations at Dubai Marina Walk to give your kids lifelong memories. Parents can sit on chairs and watch their children play while the children enjoy climbing walls, swings, and slides.
To increase safety and lower the risk of falls, the flooring in these play areas is cushioned. There are many serviced apartments nearby to select from if you intend to stay.
4. Spa Visits
This area's appeal is further increased by the abundance of spas and beauty parlors in the neighborhood. Consider paying a visit to the renowned Foot Spa, known for its superb specialized treatments, if you want a relaxing foot massage.
5. Cycling & Strolling
A great hideaway for contemplative excursions, this serene region has designated walking trails ideal for strolls. It provides many opportunities for leisurely, restorative travels that last for extended periods. This location is a cyclist's paradise, and hiring a bicycle is a simple process here, guaranteeing you can fully enjoy your favorite activity.
6. Admire A Shopping Spree
This spot is a genuine shopping paradise, bustling with stores offering a diverse range of merchandise. Get ready to peruse a wide array of items from well-known luxury brands such as Sephora, Ted Baker, Steve Madden, H&M, and ICONIC. In essence, there's a plethora of shopping choices available, ensuring that even the most discerning tastes are accommodated.
7. Dining
This area is a true shopping heaven, teeming with shops selling a wide variety of goods. Prepare yourself to browse a broad selection of products from renowned premium brands like Sephora, Ted Baker, Steve Madden, H&M, and ICONIC. In other words, there are a tonne of buying options available, guaranteeing that even the pickiest preferences are satisfied.
Final Word
With its unmatched splendor, Dubai Marina Walk is a perfect expression of beauty and sophistication. This neighborhood, which spans a whopping seven km, is home to architectural wonders that are on par with fine art.
This well-known location sees a large influx of tourists each year attracted by its alluring combination of natural beauty and contemporary conveniences. Plan your visit for a weekday if you want to avoid the crowds.
A deeper comprehension of this amazing location can help you organize your vacation and create priceless experiences in this fascinating nation.