Ski Dubai – The Most Astonishing Ski Resort in the World
Posted On 28-Mar-2023
Have you ever desired to go skiing in the middle of the Arabian desert? If so, then Ski Dubai is the destination of your dreams. It is situated within the Mall of Emirates, but it is the perfect activity to undertake in Dubai.
It boasts 22 slopes that range from beginner to advanced, as well as a steep drop of 380 meters. which will keep even the most experienced candidates engaged for hours.
If you are planning a trip to this location, then here is a complete guide that provides you with all the information you need about this unique attraction.
This guide includes details about entry times, prices, and things to explore in Dubai. The Dubai Desert Safari AE has got you covered, so be sure to check out the blog and prepare yourself for an amazing experience!
Ski Dubai - A Detailed Discussion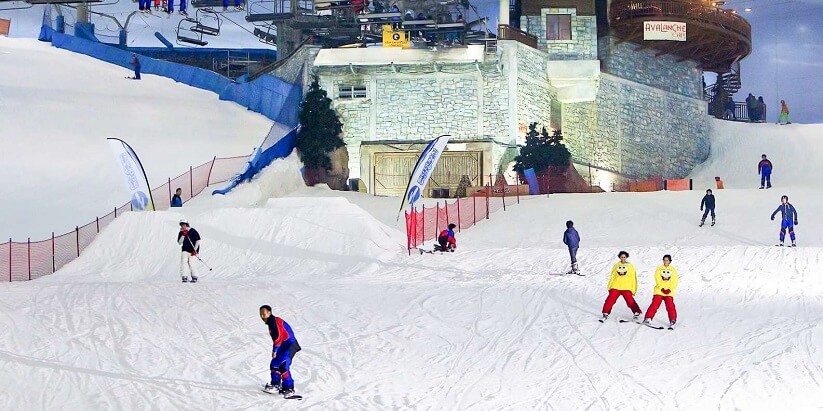 Avail the chance to take these exciting lessons at Ski Dubai. Even if you have no prior knowledge about this activity and wish to enhance your skiing swishing. Besides, the school offers lessons to help you do so. You can attend some classes at the school and improve your activity expertise.
You will have the opportunity to meet and learn from some of the world's most experienced instructors. It will enable you to accomplish your fun goals in a quick time. With the guidance of these educators at Snow Park, you can fully enjoy the exciting experience.
Also Read: Al Bastakiya
You're a Beginner or a Pro:
No matter if you are a beginner or an advanced expert, Ski Dubai has something for you. The activities and lessons offered are designed to cater to both novices and experienced candidates. You can explore your creativity by trying out some freestyle sessions on the slopes.
As a beginner, you can become a pro in just two days of training. After completing the lessons, you can compete with other candidates and show off your skills with the guidance of your instructors. You can even challenge other tourists to test your newly acquired aptitudes. It is worth giving you the chance to practice more while enjoying the Ski Dubai experience.
Entrance Ticket Fees:
It delivers an assortment of tickets and budget-friendly packages to put up all budgets. A 24-hour pass is available for 275 AED or 74 USD, while a 3-day pass costs 725 AED or 198 USD. It is important to note that gear rental is not included in the ticket prices and must be purchased separately. However, it is starting at 100 AED per day.
Timings:
Ski Dubai is open to visitors every day, with operating hours from 10:00 AM to 10:00 PM. The slopes are accessible from 12:00 PM to 08:00 PM on weekdays. However, from 10:00 AM to 08:00 PM on holidays and weekends.
Ideal Season to Explore:
The best time to experience skating in Dubai is from December to February when the weather is cooler. However, due to the popularity of the slopes during these months, it is recommended to book tickets in advance.
Number of Runs:
Ski Dubai boasts five runs of varying difficulty levels, as well as a freestyle area with exciting rails and jumps. The shortest run is 100 meters, while the longest spans 400 meters.
Temperature:
The temperature inside Ski Dubai is maintained at -1 to -2 degrees Celsius.
Activities to Explore at Ski Dubai
There are a variety of activities to enjoy at Ski Dubai, including the opportunity to learn the basics of skating. Along with the assistance of professionals who can guide you in jumping off a 10 ft. ramp. It also features a designated area for practicing skating in Dubai, in addition to many other exciting attractions.
Now, let's discuss how you can fully immerse yourself in these thrilling activities at Ski Dubai.
Skiing on the gradients:
One of the main attractions at Ski Dubai is skating on the slopes. Visitors can join an institute or group and enjoy the slopes for recreational purposes. The institute also assists professional and certified instructors for those who are new to the sport.
The Snow Park Encounter:
Another fun activity at Ski Dubai is experiencing Snow Park. This area spans approximately 4,500 square meters and offers opportunities to build a snowman or enjoy sliding. Visitors can also enjoy other activities such as climbing towers and exploring the indoor ice
Meet and Greet with Penguins:
At Ski Dubai, the frigid environment provides an opportunity for a unique encounter with penguins. You can get up close with King and Gentoo penguins and observe their habitat and behavior. These friendly creatures even stroll around the snow park in their natural style. It is allowing you to walk with them and capture some unforgettable moments.
Also Read: Dubai Frame Guide
Snow Cinema Experience:
Did you know that you can watch movies in the snow park? Yes, you heard that right! If you enjoy watching films, the Snow Cinema is the perfect place for you. You can snuggle up with a blanket and enjoy hot chocolate and popcorn. while watching the latest blockbusters in a heated theater. Headphones are provided to enhance the cinematic experience. Even children under the age of two can join in the fun with you.
Experience Zorbing:
If you're looking for an adventure, try Zorbing at the location. This exciting activity involves rolling down the snowy slope in a transparent inflatable ball made of plastic. To ensure your safety, trained professionals will guide you through the process, so there's no need to worry, even if you're a first-timer.
However, keep in mind that there's a minimum age requirement to participate in this activityWhichct is in place to ensure the safety of children.
Chairlift Ride:
Another fun activity to enjoy at the location is the chairlift ride. Four people can ride on the canopy of the snow slope at once, and you'll have several opportunities to do so. The chairlift ride is available to those who have purchased a pass, except for the morning pass for hiking.
You can enjoy stunning views of UAE's golden city while having fun in the indoor snow. It's a great way to have some fun with your family and loved ones.
Snow Tubes Ride:
Experience a thrilling ride on specially designed snow tubes at Ski Dubai. This exciting & adventurous activity is one of the top attractions at the ski resort.
For those seeking a quick and enjoyable experience, the snow tube ride is a must-try. Expert guides are on hand to assist and ensure your safety during the ride. So, even if you're a beginner, you can enjoy the ride with complete peace of mind.