Dubai Kartdrome - Unleash your Racing Demon
Posted On 23-May-2023
A popular leisure activity in Dubai is driving go-karts at the Dubai Kartdrome. Since 2004, this remarkable go-kart racing arena has been exciting for visitors of all ages.
The Dubai Kartdrome, located in the heart of Dubai, is a purpose-built facility designed to provide a safe and exciting go-kart racing experience for all. The track is part of the Dubai Autodrome complex, which also includes a Formula One racetrack, a driving academy, and a racing school.
The landmark is a globally recognized track that has held various major tournaments over the years.
Also Read: Balloon Flights
Dubai Kartdrome Guide for Racing Enthusiastic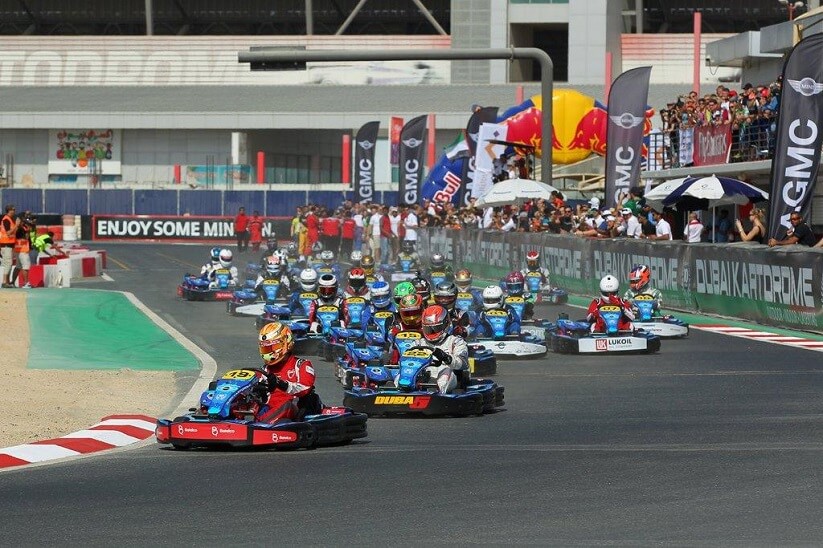 The Dubai Kartdrome features three circuits: two outdoor tracks (the International Circuit and the Local Circuit) and one enclosed loop (the Academy Circuit).
The International Circuit, which spans 1.2 kilometers, has been precisely built to provide a thrilling and fast-paced racing encounter. The Local Circuit, on the other hand, is shorter, extending over 0.8 catersatering mostly to rookie and intermediate drivers. Meanwhile, the Academy Circuit is a 620-meter indoor facility designed exclusively for young drivers.
Timing:
The trials can be conducted both adventures outdoors and indoors daily, from midday to midnight. The Race and Drive Hub is also open every day between 9:00 and 17:00.
Time & Price:
In terms of duration and affordability, the H3 experience provides an unprecedented and thrilling racing adventure, supported by a variety of options. Prices start at 115 AED.
Ideal Time to Explore:
Aside from the outdoor and indoor courses, the Dubai Kartdrome also has a go-karting academy and a variety of other amenities. This gives an intriguing incentive for exploration throughout the year.
Exciting Experiences at Dubai Kartdrome
Dubai Kartdrome offers a diverse range of kart racing experiences for drivers of all ability levels. There is something for everyone, whether you are a novice or an experienced racer. Individual arrive-and-drive sessions, corporate events, and team-building activities are among the options.
Arrive & Drive Sessions:
The workshops are designed specifically for those who are new to racing. This program is open to drivers of all skill levels and does not require any prior experience. It includes an instructional lesson, safety equipment, and rental services. This alternative is known on both the International & National Tracks.
Corporate Gatherings:
In addition, the Dubai Kartdrome provides organizations with the opportunity to organize corporate gatherings and engage in team-building activities. These activities are intended to improve employees' teamwork, communication, and leadership skills. The corporate events package includes kart racing, team-building exercises, and catering services.
Heavy-Duty Gears:
The Dubai Kartdrome takes pride in having a diverse range that caters to drivers of all sizes. The vehicles are well-maintained and well-equipped. In addition to a variety of safety features like protective frames, seat restraints, and headgear. The Honda engines that power the vehicles may reach speeds of up to 120 km/h.
Dubai Kartdrome Karting Academy:
The Dubai Kartdrome Karting Institute is a motorsport teaching school located in the opulent city of the United Arab Emirates. The Institute provides a wide range of karting programs and educational courses. Individuals of all ages, whether beginners or seasoned racers, will benefit from this program. The institute's main goal is to provide a safe and pleasurable teaching environment. For individuals who want to pursue karting as a hobby or a career.
The institute offers a wide range of programs, including basic courses for novices. It also provides advanced training for experienced professionals and coaching efforts to help those looking to better their skills. Furthermore, the institute provides instruction for business events and team-building exercises.
Facilities:
The Dubai Kartdrome Karting Academy features cutting-edge facilities such as a 1.2-kilometer circuit, a variety of cars, and a team of expert instructors. The academy is linked with the Dubai Autodrome, a motorsports complex that conducts numerous events throughout the year.
To summarise, the DAKA experience is an excellent place to gain karting expertise in a safe and supervised setting. Whether you are a newbie or an experienced racer, the academy has programs that will help you improve your driving skills to a higher level.
Dubai Kartdrome Highlights
The esteemed karting venue, Golden City, presents a range of noteworthy attributes, such as
Various Track Environments:
The facility has both an enclosed and an open-air track. The enclosed track is 620 meters long, while the open-air course is 1.2 kilometers. Both circuits have cutting-edge timing systems and safety features.
Karting Academy:
The theme park has a Karting Institute that provides mentorship and instructional programs to people of all ages. The curriculum at the institute encompasses fundamental karting principles, advanced steering maneuvers, and competitive event plans.
Corporate Events:
It is a popular site for corporate gatherings and team-building activities aimed at boosting friendship. The location can accommodate big parties and offers a variety of services, such as catering and event management.
Racing Leagues:
The venue hosts a variety of annual motorsport tournaments, including:
The Sodi World Series
The UAE Rotax Max Challenge
The Endurance Championship
Championships:
The facility offers a variety of amenities to its visitors, including a restaurant, and a coffee shop. besides, a terrace with a gorgeous view of the race tracks. In addition, tourists in Dubai can buy motorsport clothing and souvenirs from the on-site professional store.
Available for Everyone:
It provides an exciting and fun expedition for people of all ages. This includes making karting sessions available to children as early as seven years old.
Finally, Dubai Kartdrome differentiates itself as a top-tier establishment, providing tourists with an amazing and exciting karting experience, regardless of their skill level or age.
Conclusion:
To summarise, the Dubai Kartdrome is a vital attraction within the city for people seeking speed and thrill. It offers a memorable karting trip ideal for all skill levels and age groups. with great facilities, a large selection of kart racing activities, and a devoted team of pros.