Lotus Mega Yacht Dubai - Relish Wonders
Posted On 06-Jun-2023
Dubai is a destination where you can encounter incomparable escapades that are unparalleled elsewhere. The Lotus Mega Yacht, which provides a cutting-edge aquatic sanctuary, is an example of such an endeavour.
The ship features amazing multi-tiered edifices and design feats. In addition to unrivalled leisure pursuits. If you're looking for a break from the mundane, this vessel is far from ordinary. Here is your guide to the Lotus Mega Yacht.
Conversely, it ranks among the grandest vessels that traverse the Dubai waters. Let us meticulously scrutinize the myriad offerings of this colossal and exquisitely opulent ship, as we embark on this comprehensive exploration.
Also Read: Deep Drive Dubai
Lotus Mega Yacht Dubai - An Ultimate Guide for Tourists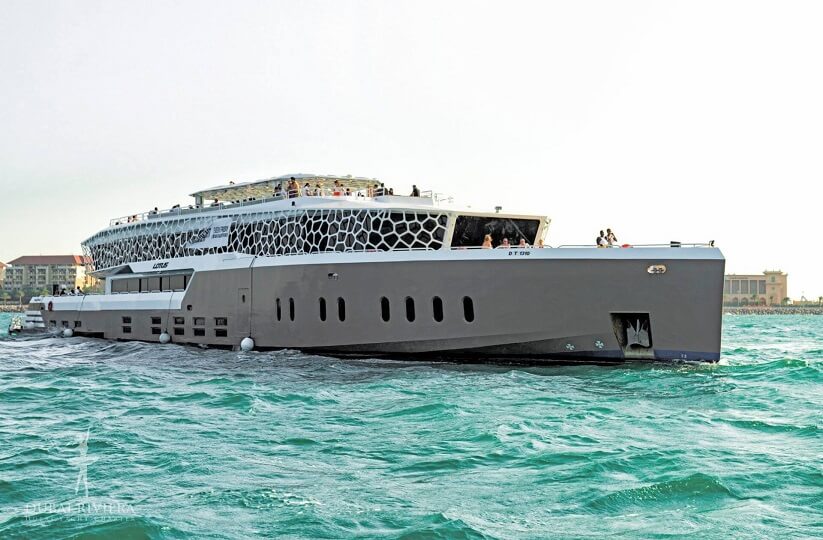 The Lotus Mega Yacht has received great appreciation as a magnificent ship that also serves. As a comprehensive and all-encompassing meeting area in Dubai's Marina waters. Its refined and lustrous façade, coupled with its awe-inspiring inner ambiance, is genuinely awe-inspiring.
It is one of the most popular selections because of its great amenities and entertainment opportunities. For those looking for a one-of-a-kind sailing experience in Dubai.
You can choose from the ship's options, such as the Lotus Mega Yacht Dinner or the Evening/Sunset Cruise. Rent the entire vessel to celebrate your special occasions in style.
Specification Overview:
The colossal yacht spans roughly 240 feet in length and was built in 2017 prior to its procurement by Dutch Oriental.
This maritime marvel serves as a splendid venue for hosting gatherings and celebrating momentous occasions.
Also Read: Dubai Hills Mall
This vessel specialises in both accommodation and service, with nine staterooms and a dedicated staff of twelve. Moreover, the boat proudly shows five decks, providing adequate room for exploration and recreation & can accommodate up to 500 guests.
Protector Of Lotus Mega Yacht:
Dutch Oriental owns and manages a large and valuable collection of watercraft, including the opulent Lotus Mega Yacht. Their fleet of ships includes several grandiose vessels and cruises that allow for exquisite voyages. Across the Dubai Creek and Marina region, including freshly purchased alternatives.
The sleek Arabian Pearl
The Desert Rose
The Supreme Ocean Empress
These options provide some of the most memorable dhow cruise experiences in Dubai. The cruises are remarkable in their scope and breadth, offering unparalleled entertainment options while on board.
Activities to Adore Onboard Lotus Mega Yacht
The enormous ship has an amazing expanse of roughly 30,000 square feet. Moreover, it presents an array of expansive amenities and impeccable services spanning across its five tiers.
With almost 10 sumptuous bedrooms, including a huge living area of 3,000 square feet, this yacht offers unrivalled comfort. The extravagant nightclub, which can accommodate up to 200 discerning guests, is one of its most notable highlights.
The yacht offers a spectacular 60-seat theatre with a 400-square-foot screen as part of its multitude of entertainment possibilities. It also has various leisure areas on each deck. The leisure facilities on board are equally exceptional. It is catering to a wide range of guest interests and comprising an assortment of exciting possibilities, such as
temperature-controlled pool
hydraulic canopy deck
private Jacuzzi
It can adjust up to 40,000 liters of water, developing it satisfactory all year round.
Lotus Mega Yacht Sunset Cruise:
This extraordinary journey is only offered on weekends, specifically on Fridays and Saturdays. It also offers a variety of ticket options for a 2.5-hour expedition. Guests can partake in the Lotus Mega Yacht Sunset Sail. It includes a delectable lunch or dinner and non-alcoholic beverages. Alternatively, they can opt for the package that includes both culinary delights and access to the open bar.
To partake in an extraordinary event, the VIP entrance provides access to exclusive seating and an endless array of refreshments. If your itinerary allows, you can indulge in a delicious world buffet that shows a harmonic blend of Western and Asian culinary pleasures.
live cooking depots
BBQ specialties
An expansive array of salads & desserts
While you savour your delectable fare and beverages, the most amazing aspect of the voyage unfolds—the breathtaking views. They unfold before you. Witness the majestic sights of the world-famous Burj Al Arab, the magnificent Ain Dubai in the city, and the enthralling Atlantis, The Palm. It is possible to immortalise these landmarks and their picturesque surroundings with stunning photography.
Palm Jumeirah
Dubai Marina
JBR
Bluewaters Island
Embark on a distinctive and unobstructed vantage point of the glittering seas, far apart from the crowded hordes. Before returning to the coasts, bask in the mesmerising sunset panoramas amidst the ever-changing metropolis.
Ticket Price:
The spectrum of ticket choices fluctuates based on the inclusions offered within each package, and there are reduced rates available for youngsters aged 3 to 10 years. Here is a detailed breakdown of the Dinner Cruise ticket pricing structure.
The VIP package, the tour's pinnacle, costs 499 Emirati dirhams (AED), or 140.05 US dollars (USD).
The package includes delectable cuisine and standard beverages and costs 349 AED (97.95 USD).
The package that includes exquisite meals and non-alcoholic drinks costs 249 AED or 69.88 USD.
Children's tickets cost 199 AED (55.85 USD).
Timing:
Time in: 03:00 PM - 08:30 PM
Departure time: 03:30 PM
Pause time for a a voyage at 09:00 PM
Significant Notes To comprehend Before the Tour:
The Lotus Mega Yacht's journey begins and ends at Pier 7, which is near to Dubai Marina Mall.
On board, passengers may enjoy a variety of entertainment zones and enthralling attractions, as well as live shows displaying remarkable skills, such as the Tanura show and a fascinating puppet show.
Every Lotus Mega Yacht package includes a lavish five-star dining experience with a fusion of Western and Asian gastronomy, as well as limitless beverage options.
The provision of alcoholic beverages, on the other hand, is contingent on their inclusion in your chosen cruise package. Valid identification. Such as a driver's licence, passport, or Emirates ID, is required for all visitors.
The particular sailing path and opportunities for sightseeing are subject to prevailing weather conditions.
The Finish Line:
For an unparalleled aquatic expedition in Dubai, the Lotus Mega Yacht presents a voyage that transcends the ordinary. This extraordinary odyssey includes delectable gastronomy, remarkable libations, uninterrupted live performances, and indelible moments. It will forever be etched in your memory, in addition to the breathtaking panoramas that unfold before you. Explore a variety of enticing packages to maximise the promise of an extraordinary escape. Or entrust our team to ensure your Lotus Mega Yacht experience in Dubai is nothing short of extraordinary.