The Rotunda Show Dubai - A Matchless Fun
Posted On 29-Aug-2023
Visitors to Rotunda Dubai can explore and have incredible adventures. The distinctive qualities and primary draws are highlighted in this article.
The most modern and cutting-edge marine facility in Dubai is a technological marvel called Bluewaters Island. It provides a wide range of thrilling activities for an amazing urban adventure. These include the opulent Madame Tussauds, the pier, and the magnificent Ain Dubai Ferris Wheel. The only Caesar's Palace outside of Las Vegas is also located on Bluewaters Island.
One of Caesars Palace Bluewaters Dubai's signature features, The Rotunda Dubai, shines as a significant entertainment centre close by. centers the bar for luxury and sophistication among Dubai's numerous hotels. This magnificent edifice, with its outstanding dome-shaped architecture, has only lately been displayed. Since its debut, it has served as the location for many illustrious occasions, including the legendary WOW show.
Rotunda Dubai - An Enchanting Encounters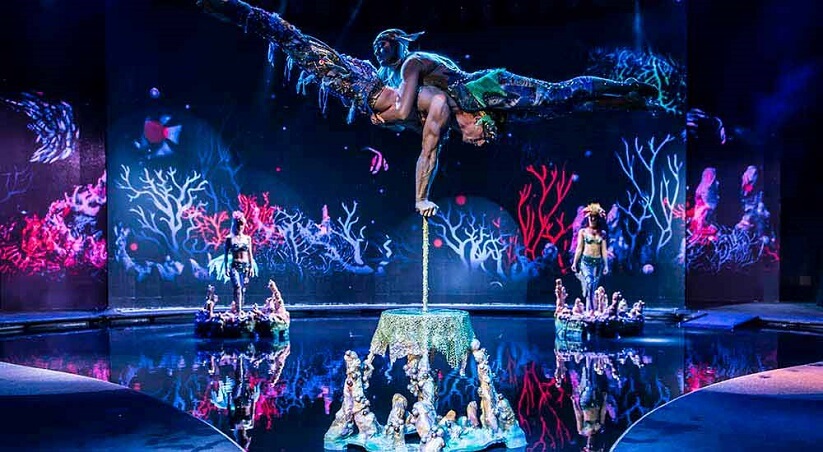 Timing:
The Rotunda in Dubai City opens 30 minutes before the event, allowing entrance in accordabyition the schedule. From this moment, the ticket counter is open for a two-hour period. About 30 minutes after the official programme starts, the actual show starts, and it ends shortly after.
Duration:
Depending on the exhibition, the length of your visit to the Rotunda Dubai event varies. To truly appreciate and participate in the show, set aside two to three hours.
Location:
Caesars Palace Bluewaters Dubai is conveniently positioned close to the magnificent Rotunda performance in the picturesque Bluewaters Island neighbourhood. This alluring island offers amazing views in all directions and is located just 300 metres from JBR Beach (Jumeirah Beach Residence).
Also Read: Madame Tussauds Museum
The Rotunda Dubai Outlines
Along with other opulent lodgings, the well-known "City of Gold," the United Arab Emirates, is a big draw because of this well-liked entertainment centre.
Caesars Resort Bluewaters Dubai and the Residences at Caesars Palace are included.
Caesars Palace's allure These guestrooms, which act as the complex's focal point, improve Bluewaters Island.
Visitors have a wide assortment of delicious dining alternatives to choose from, numbering close to 12.
A remarkable dome-shaped structure houses the opulent Qua Spa, a high-end wellness facility, making it stand out and adding to its attraction.
The circular building type, frequently referred to as a "rotunda," is influenced by classical and neoclassical designs and is reminiscent of Rome's renowned Pantheon.
It is a great location for big meetings and parties because it can accommodate up to 500 persons.
Each season, The Rotunda Show presents a variety of breathtaking live shows and captivating events.
For your convenience, there are lots of free parking places close to the Orange Zone
The Rotunda is a superb location for business gatherings, major celebrations, product launches, and theatrical performances. It distinguishes itself with elegant indoor and outdoor areas, mouthwatering food, and opulent amenities.
Also Read: Fontana Water Circus
How to Reach?
There are several ways to go to Bluewaters Island, and they are all simple and practical. Whether you want to drive or hire a taxi, the trip takes only 20 minutes on average from the city centre. For those taking the metro, DMCC is the closest stop. RTA buses, including lines 84 and F55A, can be used by bus passengers as they pass close to the island.
Ticket Price:
Visit the tour page or Rotunda Dubai's official website for the most recent information on upcoming performances and ticket information for this unique attraction. Given that schedules might occasionally alter, staying informed is essential. Visitors will find a variety of ticket options, including seating-only and seat-and-dining packages, regardless of the specific show.
Astounding Features at Rotunda Dubai
Every performance at The Rotunda guarantees fun and features top-notch performers. If you need more convincing, this section strives to provide you more information on the components that go into creating its allure.
Also Read: Enchanting overnight desert safari
Superior Shows Venue:
There is a long tradition of excellent performances in the Rotunda. The crowd in Dubai was astounded by The Tenors of Rock's thrilling performance in December 2018. Then, in March, singer-songwriter Tom Odell had an outstanding performance that won him plaudits from all around the world. The internationally acclaimed production WOW - Direct from Las Vegas, which ran from February to May, dazzled audiences with its state-of-the-art visuals, mind-blowing music, superb choreography, and over 30 gifted performers. The sixteenth WOW Show at Dubai's Rotunda cemented its reputation as an exceptional and grand event.
Rotunda Rumble:
Fans of magnificent musical extravaganzas, sports fans, and fervent boxing fans have all expressed their admiration for these electrifying live performances. The historic Rotunda Rumble was carefully planned by Middle East Professional Boxing, MTK Global, and Round 10 Boxing Club. The best fighters in the world competed in this event, including accomplished UAE boxers and tough opponents from throughout the world.
hammad Waseem
Julio Cesar Martinez
Andrew Selby
The second Rotunda Rumble was conducted in November of the same year after the original event in September was a success.
360 View Show:
Get ready for an absolutely amazing visual experience inside the magnificent Rotunda Dubai, which has a ccan00 people at once.
The Rotunda Dubai exhibition provides a singular appreciation for the unmatched 360-degree panoramic perspective that its circular location offers.
The Finish Line
Do you have interesting travel plans to Dubai? Rotunda Dubai and Caesars Palace Bluewaters offer memorable experiences, and they have all you need for a wonderful stay in this great city. Don't miss out on these opportunities.