Dubai Opera House: Harmonizing Elegance
Posted On 12-Sep-2023
The Dubai Opera House is the most recent achievement in urban development. This amazing vessel-shaped building houses a thriving center for fresh ideas. It also serves as a meeting place at the gateway to the thriving metropolis. The Dubai Opera House actively supports the work of talented local craftspeople and promotes respect for many world cultures.
The United Arab Emirates and the City of Grandeur both recognize this extraordinary masterpiece as a contemporary cultural icon. It is a large structure that can hold 2000 people and was built to host a wide range of creative gatherings that include a variety of acts.
theater performances
concerts
art exhibitions
sports events
opera
cinema
orchestra & other seasonal manifestations
The city praised for its beauty, has earned a reputation for daring to dream big and pulling off things that were once thought impossible. As a result, it displays several amazing architectural marvels. Using cutting-edge technology and a wealth of resources, this creative metropolitan center cultivates the most distinctive and alluring ideas. This guidebook will provide you with an overview of the freshly built Dubai Opera House as well as all the necessary information.
The Dubai Opera House Mesmerizing Highlights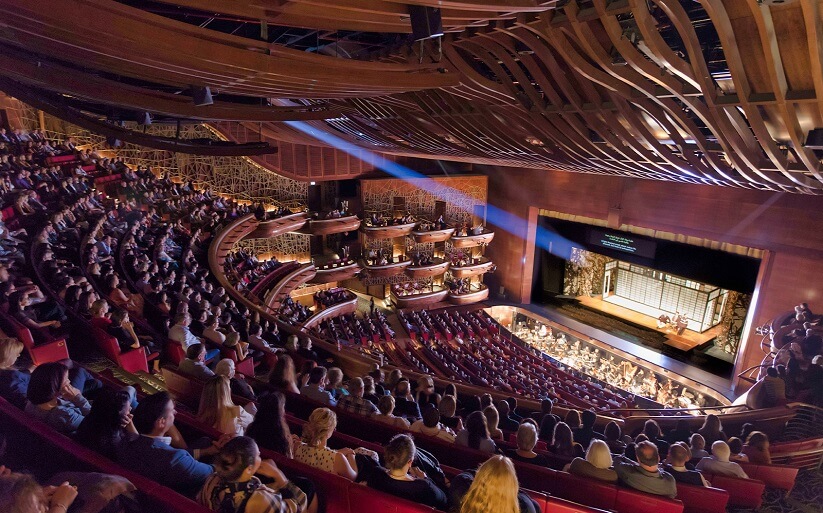 The Dubai Opera House's architectural style reflects the city's nautical history and was inspired by traditional Arabian dhows, which are famous for their usefulness and adaptability as wooden sailing ships. This distinctive building transforms the well-known Dhow Creek into an alluring modern location, adding to its charm.
Also Read: The Rotunda Show
Dubai Opera House - The Manuscript:
The Dubai Opera House has three primary configurations for theatrical performances and concerts in addition to a flexible "level floor" option appropriate for meetings and exhibitions.
These adaptable configurations turn it into a vibrant center for a wide range of cultural events, ensuring smooth adaptation to a variety of occasions. It includes acclaimed concerts, children's plays, theatrical productions, traditional Arabic musical performances, and international music concerts.
The creation of the Dubai City Opera House is motivated by the desire to foster a love of music and art while also drawing tourists from around the world to these cultural venues.
Location:
The Dubai Opera House is tucked away in the center of Dubai's Opera District and offers breathtaking views of famous landmarks like Burj Park, the renowned city fountain, and the soaring Burj Khalifa, the tallest building in the world.
This entire neighborhood is dedicated to encouraging the exchange of artistic creations by regional and international artists, displaying both well-established and up-and-coming talents. The area will also be graced by opulent hotels and luxury apartments.
This area is home to a shopping center, lots of open green space, roomy parks, and charming beach promenades. Passes that include admission to popular sights like the Burj Khalifa and the Dubai Fountain Lake are available for purchase by visitors. Additionally, this pass can make visiting the Dubai Opera House more enjoyable.
The Dubai Opera House - A Detailed Insight Guide
The Dubai Opera House, a landmark in the center of Dubai, is scheduled to open on August 31, 2016, and the event's organizers are eager to host guests from around the world.
One of its most appealing characteristics is its adaptable seating arrangement, which has a total of 2000 seats, 900 of which can be hidden, moved, or altered to accommodate various event setups. These intriguing and little-known facts regarding the opera venue are undoubtedly noteworthy.
Deformed happened in May 2013:
The Dubai Opera House's building timeline, which began in May 2013 and was completed in just over three years, may seem lengthy to some, but it contrasts sharply with the astounding 26 years it took to build the iconic Sydney Opera House, surpassing earlier estimates. The city deserves praise for completing this extraordinary task so quickly.
Number of people & seats:
The Dubai Opera House has a capacity for 2000 people and can also seat 184 notable guests in 31 private boxes. Interestingly, the seating arrangement may be changed to meet the demands of each function.
A total of 1901 seats, 915 in the stall area, 529 in the grand circle, and 457 in the Royal Circle, are accessible for concerts. An underground garage can be used to store any extra chairs.
Alternatively, there are 1875 seats available when the theatre mode is activated, including 889 in the stall section, 529 in the grand circle, and 457 in the royal circle.
Dhow Cruise Structure:
This venue, which draws its design cues from traditional dhows, uses cutting-edge hydraulic technology to change layouts quickly. It easily converts into a premier theatre or music venue. Additionally, the location is prepared to accommodate a wide range of events, including sporting competitions, exhibitions, trade displays, and more, with impressive speed and variety.
Also Read: Queen Elizabeth 2
This amazing building, which is located in a busy metropolis in the United Arab Emirates, is primarily made of glass and has a transparent entrance, giving it a mesmerizing 'box inside a box' appearance from the outside.
A beautiful chandelier within creates a mesmerizing visual spectacle when it is lit up. It weighs 1,000 kilograms and has 2900 LED lights. Additionally, 600 additional strategically placed LEDs throughout the space improve the mood and offer an exquisite lighting experience.
The arrangements improved the audio experience
Flexibility was essential for staging a variety of acts in Dubai, sometimes known as the City of Gold. The stage and seating configurations may easily change to accommodate each special act. The structure also has a cutting-edge acoustic shell with ceiling reflectors, which improves sound quality and distribution.
These intriguing elements have raised interest in the upcoming opening of the Dubai Opera House. The Dubai Opera District is positioned to emerge as a major international cultural hub by 2020. Due to its cutting-edge art galleries, opulent five-star hotels, and chic boutique stores, this location is destined to bring tourists from all over the world to the golden metropolis of the United Arab Emirates.