Topgolf Dubai: A maximum Golf Fun
Posted On 11-Jul-2023
The Middle East's premier golf destination is Topgolf in Dubai. But it has swiftly gained popularity among fans of sports and those looking for amusement. You can find all the details about Topgolf Dubai right here.
Long popular, this game has recently evolved into a more enjoyable activity that goes beyond simply hitting a ball on a course. Nowadays, new, fascinating locations are opening up all over the world. Topgolf Dubai is one of the most recent and stunning attractions.
Also Read: Reem Mall Abu Dhabi
Topgolf Dubai - A Concise Outline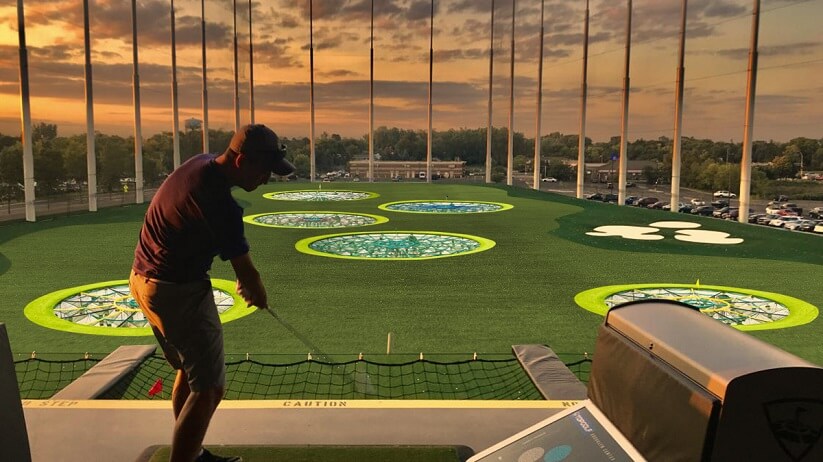 Before delving into Topgolf Dubai's specifics, let's take a moment to understand this intriguing idea's core principles. Sports and entertainment organization has unveiled a novel and original way to have fun. The locations are huge, multi-story complexes with a variety of games instead of a normal golf course. Additionally, the challenges are made to be enjoyable for players of all skill levels.
Creative Intelligent Games:
Each venue's centerpiece is a cutting-edge driving range. Players can make fantastic shots out onto the range thanks to the distinctive acoustic characteristics of each driving range. The range employs special balls with embedded microchips that meticulously trace each shot, documenting the ball's distance and accuracy.
Contact Screen:
But this amazing occurrence involves more than just hitting the ball. Every bay also has a touch-sensitive screen that players can use to choose from a variety of games and activities, like practicing their aim or playing simulated golf courses. These games are designed to be enjoyable and engaging, making them perfect for gatherings with friends or family.
Amusement:
This fascinating event, which is located in the Emirates Golf Club, is a center for recreation, sports, and relaxation. It proudly bears the distinction of being the first of its kind in the Middle East and is tucked away in the thriving city of Dubai. Both diehard sports lovers and people who don't participate in the activities find it to be a strong attraction. This place advertises itself as a state-of-the-art training facility but also offers an additional epicurean experience. It is a modern take on a traditional game to inspire people of all ages and ability levels through a blend of play, culinary treats, and urban attractiveness!
Topgolf Dubai - Things to know
Utilize the fantastic opportunity to go out during the workweek to increase your joy with close friends
Two pleasant hours are the suggested amount of time to enjoy this journey
The initial ticket prices start at AED 130, offering a variety of options
Al Khail Metro Station is strategically located to be the closest Metro Station
Opening times:
You can drop by any time between 11:00 AM and 12:00 AM on Sunday through Thursday
The visiting hours are from 11:00 AM until 1:00 AM on Thursdays
On Fridays, businesses are open early and take visitors from 9:00 AM to 1:00 AM
The same hours (9 AM to 12 AM) are available for visitors on Saturdays as on Fridays
Topgolf Dubai: A Desert Garden
Now that you are aware of this location's mystic qualities, let's explore Topgolf Dubai. It occupies an astounding 60,000 square feet in the center of the city's brand-new entertainment district, known as City Slopes Bequest.
Topgolf Dubai stands apart from other locations with its cutting-edge driving range that has many bays. The breathtaking vista it gives is what, however, truly sets it apart. The Burj Khalifa, the highest building in the world, is visible in Dubai's skyline from the range.
The location also has a restaurant and a pub where visitors may indulge in a variety of foods and beverages while having fun. Delicious items on the menu include succulent burgers, tasty wings, superb sushi, and light salads.
Topgolf Dubai has several other entertainment options in addition to the driving range. On a high platform with a bar and a view of the Dubai cityscape, there is a mini-golf course. There is also a virtual reality game lounge where visitors can immerse themselves entirely in created worlds.
Bundles:
The enticing attraction is open every day of the week, making it simple for visitors to reserve a berth. Be careful to visit because the costs vary depending on the day of the week and the time of day. A typical bay rental, however, costs between AED 130 and AED 250 per hour and accommodates up to six players.
Why should we stop in Topgolf Dubai?
You should think about visiting Topgolf Dubai if you enjoy sports or just want to have a wonderful and exceptional entertainment experience. The amazing view of the UAE's lovely city skyline only enhances the experience at this arena, which stands out from any other sports facility you have visited.
Topgolf Dubai offers something to offer even if you're not an avid sports fan. Players of different skill levels can participate in the games and challenges, ensuring that everyone can have fun. Additionally, the variety of food and beverage options will fulfill everyone's cravings.
In conclusion, everybody who appreciates games and enjoyment should visit Topgolf Dubai.
Motives to Explore Top Golf Dubai?
As a unique and interesting venue to have fun and play games, Topgolf Dubai stands apart. People of all ages and skill levels are drawn to it because it provides an immersive experience. There are several compelling reasons to think about visiting this interesting location in the city of Dubai, United Arab Emirates.
Fun & locking:
Topgolf Dubai offers a welcoming and engaging environment that is perfect for socializing, competing, and taking pleasure in the company of friends and family.
Playing element for everybody:
This location is designed to meet the needs of both experienced and inexperienced gamers. It provides an engaging experience for seasoned players while also providing a secure setting for newcomers to learn and develop their talents.
High-class offices:
It boldly displays cutting-edge gaming technology in contemporary facilities. Every element of the game, from the engrossing sound effects to the sophisticated ball tracking system, has been thoughtfully designed to improve your gaming experience.
Food and beverages:
It provides a vast selection of delectable foods and beverages that are appropriate for any occasion. There are many options available to sate your cravings, whether you're seeking a quick snack or a complete dinner.
Additionally Read: Dubai Shopping Festival
Amusement:
There is more to it than just a game. Additionally, you may take part in interactive sports, live music, and other entertaining activities that are ideal for a night out in the city.
In conclusion, everyone looking for a pleasurable and interesting gaming experience should make a trip to Topgolf Dubai. At this thrilling entertainment location, there is something for everyone, seasoned players as well as novices.