Play DXB: Uncover the Utmost Thrill
Posted On 18-Jul-2023
Discover the expansive Play DXB Dubai, which is currently open to fervent joy seekers, and plunge into its unique intricate leisure environment. It covers about 75,000 square feet. Prepare yourself for an unprecedented assault on conventional wisdom. Unquestionably, as Sega Republic closed its doors in the Dubai Mall last year, there was a sense of relief.
But let's have a party! Recently, a more expansive and reasonably priced attraction opened in the same mall, delighting visitors and bringing about favorable changes. You can learn more about this modern allure in the opulent UAE city by reading the detailed description provided here before you go.
Play DXB Dubai - Thrilling Overview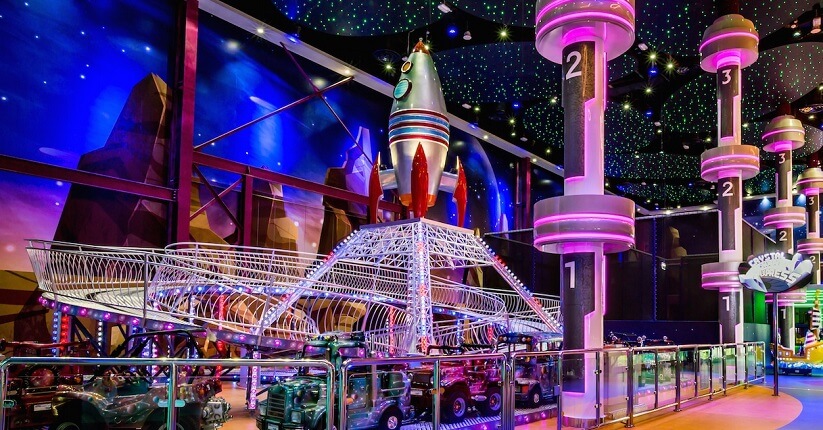 With the widest selection of activities available in the Middle East, Play DXB stands out. They provide 18 thrilling augmented reality (AR) and simulated reality (SR) excursions and attractions. This location is a paradise for players, providing exhilarating encounters around every corner. Additionally, it easily carries you from mundane reality into the alluring world of fantasy. A wide range of genres are covered by the immersive virtual reality produced by Play DXB in Dubai. In addition to generating "shared escapism" and social relationships, they also cater to various preferences.
adrenaline
horror
leisure etc
Although each trip costs between AED 15 and AED 45, anyone can enter this thrilling virtual reality world. You may be confident that this immersive experience will give you access to a wide variety of outstanding virtual reality excursions. This fascinating attraction offers an amazing Dubai trip that transcends technological constraints. Through augmented reality and geolocation-infused magic, it goes beyond the realms of imagination!
Essential Info at Play DXB Dubai:
Indicated Duration:
Even if you are free to use your time however you choose, it is advised to set aside around 3 hours for fun in this magical place.
Pricing:
The World Trade Centre station is the closest underground transportation hub and admission costs AED 200.
Opening Hours:
The designated visitation times on weekdays, from Sunday through Wednesday, are from 10:00 a.m. to 11:00 p.m. On the other hand, on the weekends, from Thursday through Saturday, business hours are extended till 1:00 a.m.
Must-do Following Things to do:
Burj Drop
APE-X
The Raft
John Wick Chronicles
Address:
Between Reel Cinemas and KidZania in the center of the Dubai Mall is where Level 2 is conveniently located.
Supreme Tour at Play DXB Dubai
Visit Play DXB in Dubai City if you were enthralled by the film "Ready Player One" and want to lose yourself in a setting that captures its spirit. This amazing location delivers extraordinary experiences and stretches the limits of human imagination. Additionally, it combines the worlds of vision and reality to produce a distinctive and customary gathering space.
Because it offers more than just rides, encounters, and activities, it captivates visitors of all ages. From a wide range of interesting events, we have compiled a list of the top 18 crucial activities. It enables you to fully immerse yourself in Play DXB Dubai's charms.
APE-X:
Have you seen King Kong's incredible size? Do you want to be there with him in that thrilling situation, standing on top of the Empire State Building?
Utilize the compelling features of Starbreeze's cutting-edge StarVR headsets as soon as possible to take advantage of this wonderful opportunity. You will be taken to the viewpoint of a huge, cybernetically improved ape. The situation has a twist, though: you have to figure out how to get away from your captor's grasp. After all, he wants to keep you in prison forever.
Also Read: Topgolf Dubai
Holding on tightly becomes incredibly important as you perilously hang from the edge of a massive skyscraper. A dangerous fall could result from one careless step. Engage in tight combat, displaying unyielding resolve in the face of foes that will stop at nothing to see you fail. Take advantage of the opportunity to launch a steady stream of missiles and destroy the evil robots. However, keeping balance on the constrained pathway also requires battling internal vertigo. Gather your courage and win this thrilling game by being the victorious champion.
Burj Drop:
We can't help but wish that our staff could move around the Burj Khalifa with the same beautiful agility as the window cleaners do. They swing from the structure with graceful grace, meticulously cleaning the windows with incredible accuracy. But have you ever thought about the experiences window cleaners at the Burj Khalifa will have?
However, this irresistible urge intensifies as each cable approaches its limit. It entices you to investigate a range of interesting approaches and virtual reality programs. Get ready for a heart-pounding drop that will be followed by a thrilling jolt unlike any other. Get ready for an adrenaline-fueled adventure that will keep you on the edge of your seat.
The Raft:
Set out on a thrilling adventure for four people where cooperation is essential and avoiding enigmatic foes seems impossible. Avoiding the grasp of these supernatural adversaries becomes a difficult adventure without perfect synchronization and cooperation with your teammates. Prepare for a fully immersive multiplayer virtual reality experience where you and your friends will go on an enthralling sensory adventure.
Enter The Flotilla, a world filled with the spirit of wetlands that is immersive. You will be thrown into a never-ending battle inside its boundaries with frightening foes that are hidden in the sky, the deep sea, and the harsh shoreline. Teamwork is essential to surviving this dangerous test since each player's use of their priceless harpoons must be precise and measured. To secure the safe extraction of every participant, careful planning is required. As you begin this exciting chapter of The Flotilla, put on your collaborative gear and arm yourself with amazing virtual reality weapons.
John Wick Chronicles:
Enter the compelling story and take on the legendary persona of John Wick, the famed assassin. Accept the difficult task of removing extremely elusive targets. Maintain steadfast attention as you maneuver the virtual metropolis with exactitude and attain your goals.
Additionally, you'll have the amazing opportunity to use the VR-enhanced MP5, taking on the role of a lethal and expert contract killer. You will be able to unleash it with the powerful firepower this weapon possesses.
PAYDAY: The VR Heist:
Set out on a thrilling adventure as you join forces with powerful allies and skillfully cooperate to achieve daring wins inspired by the alluring world of a first-person shooting video game.
Your goal requires painstaking preparation and faultless execution of a daring bank heist that penetrates far into Washington, DC. By immersing you in the mindset of an accomplished master thief, PayDay: The VR Heist gives the act of successfully robbing a bank a seductive air of daring.
From breaking into the strongly defended banking facility to liberating sought-after loot, every aspect of the game unfolds with a distinctive 360-degree vision and immersive interaction, all while engaging in dramatic showdowns with police enforcement.
So put on a disguise, savor the irony, and get ready for an incredible adventure.
The Walking Dead VR Outbreak:
While confined to a wheelchair within a medical institution, fight a fierce final battle against swarms of ruthless zombie creatures. With little time on your side, fast thinking and astute planning are essential in the struggle against these tough undead adversaries.
Play a virtual reality game to fully immerse yourself in the eerie atmosphere of a run-down hospital or asylum. Bloodstains and immobile white-clad figures decorate the frightening scene.
Prepare yourself for an encounter that will have a profound effect on your psyche if you frequently have scary nightmares. This event's disquieting character will surely have a lasting impact on your thoughts.
But if you're a die-hard fan of the acclaimed horror video game "The Walking Dead," this alluring and thrilling virtual reality experience will grant your deepest fantasies.
Be exceedingly cautious and resisted the need to open the door because it still carries the eerie aura of the departed.
Several Constraints at the Dubai Attraction:
All guests are required to follow the regulations for each ride, which include limitations based on size, age, height, and health.
It is prohibited to eat or drink inside the attraction area while outside.
It is prohibited to cut in front of the queue and reserve spots for others.
Play DXB strictly prohibits smoking in all areas.
We caution guests to exercise caution and never leave their items unattended.
Play DXB is not liable and cannot be held responsible for any theft, damage, or loss of personal property.