Dubai Meena Bazaar - A Captivating Place for Exploration
Posted On 10-Oct-2023
Who wouldn't want to buy in the bustling Meena Bazaar in Dubai, often known as "Little India"? You may find a wide range of excellent products inside this thriving UAE shopping center, including great costume jewelry. With so many fantastic options available in one location, shopping is pleasurable. The best part is that everything is reasonably priced here as well! For the sake of simplifying your shopping experience, we have included key information.
Additionally, the professionals at Meena Marketplace have put together this thorough buying guide to improve your shopping experience. Discover all that "Tiny India" has to offer in terms of the best retail and leisure alternatives.
Also Read: Al Noor Island in Sharjah
Exploring the Indian shops in Dubai's Meena Market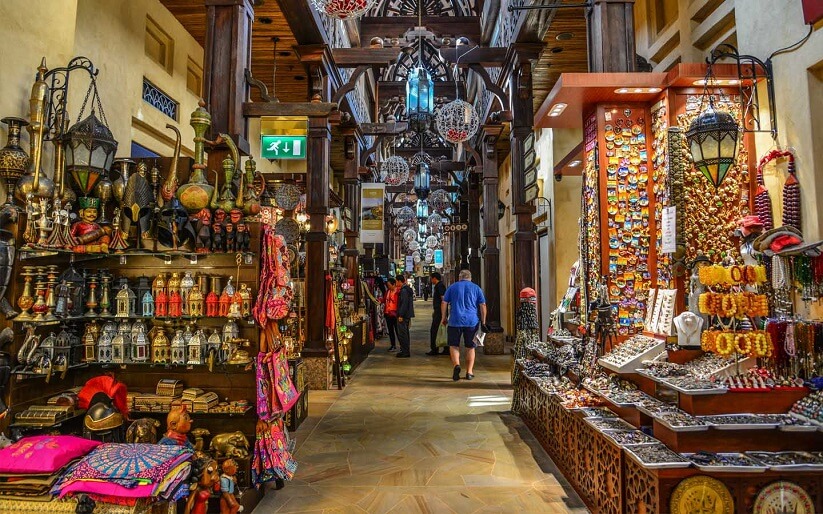 This shopping district is located in Bur Dubai next to Khalid Bin Waleed Street and is easily accessible by public transportation. If you decide to drive, be aware that parking spaces are expensive and hard to come by.
Use public transport to get to Meena Market without any hassles. Take a public bus or the metro to Al Fahidi Metro Station 2 from the Faheidi Roundabout.
Exposing the mysteries of Meena Marketplace in Dubai
The cab drivers' frequent use of the name "Meena Bazaar" for this Dubai shopping entry has solidified its status as a well-known urban retail location. It is frequently compared to Delhi's Meena Bazaar, especially because of the textile sellers who line Al Fahidi Street.
A store in Bur Dubai changed its name from Shardha Trading to Meena Bazaar, which is now a well-known moniker. This is where to go if you're looking for traditional and ethnic clothing.
Visit on Monday through Saturday from 08:00 GST to 23:59 GST to get the most out of your shopping trip. It closes at midnight on Fridays and opens again at 14:00 Gulf Standard Time. Remember that most shops take a 30-minute lunch break. According to UAE rules, business hours are normally shortened by two hours each day during Ramadan.
Jewellery & Diamond Shops:
The first jewelry store opened in 1982, at the same time as many gold traders moved from the Deira Gold Souk to Meena Bazaar to sell their wares at more reasonable prices.
This pattern is still evident today, as Meena Bazaar is now home to an abundance of diamonds. Gold jewelry is priced at almost half the going rate.
Dine & Wine:
Who could resist the allure of enjoying delicious food and drinks while out shopping? If you're seeking coffee or a delicious lunch in Dubai, especially if you have a hankering for Arabian food, explore the variety of neighboring restaurants. With a wide variety of oriental foods available at restaurants and cafes in the area, you may have a delectable dinner while sipping hot coffee with your shopping partner.
In addition, there are more delicious foods available than simply spicy non-vegetarian ones. For vegetarians and fans of Indian food, the famed Rangoli vegetarian restaurant in Meena Bazaar is a top choice. For vegans looking to enjoy delicious South Indian and Gujarati meals together with freshly squeezed juices, this restaurant is a popular choice.
Shopping Galore:
During holidays like Eid Al Fitr, Diwali, or Eid Al Adha, Meena Bazaar transforms into a bustling center of the celebration. The streets come alive with crowds of people, and shops frequently see a surge of customers from across the world, much like moths are drawn to a blazing flame.
Also Read: Sunbathing in UAE
According to Jay Mohan, a well-known owner of a textile shop nearby, most festival aficionados head to Meena Bazaar for ethnic clothing. Meena Bazaar, in his words, "offers a large assortment of traditional clothing made from breathable fabrics, accessible in a variety of hues, designs, and sizes.
You can come across mobile tailoring shops on the streets throughout the holiday season that sell custom-made clothing that is built to your measurements. For those looking for traditional Indian clothing in Dubai, this finding can be a joyful discovery.
Discover the Interesting Street Food Culture of Dubai
Find out Meena Bazaar to bring a fondness to Dubai's vibrant street food setting. Take a unique South Asian culinary trip with these lovely pavement restaurants. As you move through the busy lanes of Meena Bazaar, don't miss the chance to sample hot vada-pav, golgappas, jalebis, and samosas.
Meena Bazaar in Dubai city creates a vivid picture of Little India with its bustling streets luring consumers looking for ethnic clothing and an ambiance scented with the alluring aroma of Indian spices.
This neighborhood's restaurants and shops continue to exude a distinct desi appeal that gives the streets a distinctly Indian atmosphere. Restaurants like Mumtaz Mahal Indian Speciality, Mumbai Masti, and Puranmal Vegetarian can be found here, all of which provide great dining experiences among the region's culinary gems and top dining spots.
Wrap up:
These restaurants provide customers with a genuine taste of Indian cuisine and a memorable dining experience. The extensive range of flavors and spices used here eloquently highlights the diversity and depth of Indian cuisine. This is a crucial location that perfectly integrates dining and shopping if you have a passion for Indian cuisine and culture.
Do you think that visiting Meena Bazaar should be simple if these recommendations are followed?