Al Noor Island in Sharjah - Learning about Peace and Natural Beauty
Posted On 04-Oct-2023
Locals and visitors alike adore Sharjah's famous Al Noor Island, especially families looking for a tranquil getaway. Once there, you'll enter a riveting, novel world brimming with exhilarating sights and activities.
You may take part in a variety of activities at Al Noor Island in Sharjah, including retail malls, colorful butterflies, captivating light shows, and exquisite artwork. The Literature Pavilion is the ideal location if you're searching for a peaceful retreat away from the bustle of the city. This thorough handbook has all the components you instruct for this unusual location.
Also Read: Ajman Nights Club
Circumstances In Al Noor Island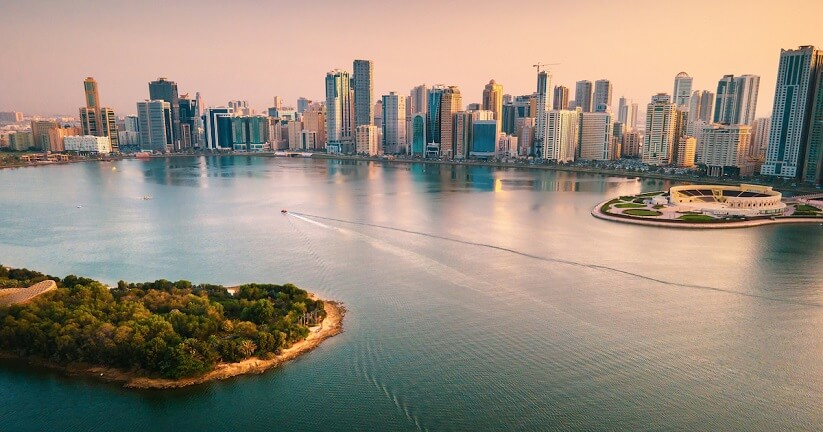 Amazing works of art, magical light shows, and the serene presence of lovely butterflies may all be found here. The tranquil Literature Pavilion provides a tranquil retreat from Sharjah's busy cityscape and malls. This guide is filled with all the necessary details regarding Al Noor Island in Sharjah.
Butterfly House:
Around 500 butterflies, comprising 20 infrequent and endangered varieties, can be established on Al Noor Island. The Butterfly House, a mesmerizing cage inside a wonderfully constructed, nature-inspired structure, is the main draw. It keeps a comfortable atmosphere with the ideal humidity and enables sunshine to illuminate the butterfly sanctuary.
The Butterfly House, which is surrounded by rich vegetation, offers the butterflies a perfect refuge and ensures their well-being in their natural habitat. You'll find beautiful bird species within, as well as other fascinating critters like the pinkish rose and the emerald-tailed yellow jay.
Also Read: Sunbathing in Dubai
Butterfly House Tickets:
The Butterfly House on Al Noor Island has an additional cost in addition to the regular admission price. Here are the specifics for the lovely sanctuary's optional guided tour:
Adults (13 and older): 15 AED per person.
3 to 12 year olds: AED 10 per child.
Timings:
The viewing hours are from 9:00 AM to 6:00 PM, and visitors are cordially invited at any time.
Art & Sculpture:
Sharjah's Al Noor Island is a loving ode to imagination, the wonders of nature, and the arts. There are six distinctive pieces of art on the island, including installations and imposing sculptures that blend in perfectly with the surroundings and culture.
Torus is a compelling sculpture with a distinctive design that is embellished with metallic accents and captivating light shows. OVO, an egg-shaped wonder that deftly combines water, wood, and LED lights to grab your senses, will astound you.
Discover the profound significance of the angular and abstract Columns, which stand for resiliency and advancement. Alternately, lose yourself in the Fossil Rocks trio's timeless presence.
Literature Pavilion:
At the Literature Pavilion on Al Noor Island, let your inner poet loose. It offers a lovely blend of vibrant hues, cozy pillows, and exquisitely carved Arabic poetry.
The quiet ambiance is immediately created as soon as you enter by the calming sounds of a fountain and calming music, escorting you to a pleasant world.
You can unwind in this peaceful retreat by relaxing on the chic furnishings, losing yourself in a fascinating book, or journaling while letting your mind go wild. Your creative imagination will no doubt be sparked by this serene setting.
Landscaped Gardens:
Nothing compares to the serenity of being surrounded by unspoiled nature. Take a deep breath and let nature envelop you.
Al Noor Island, close to Sharjah, is home to some 70,000 carefully chosen plants and trees, each of which contributes significantly to the island's distinctive sceneries.
Towering cactus, trees in the shape of bottles, a wide variety of medicinal herbs, and an antique olive tree that has graced the ground for more than two centuries are all included in this amazing collection of flora. Without a doubt, the astounding diversity of the displayed flora is admirable and encouraging.
Al Noor Island's allure:
At night can be attributed to its lovely gardens, which are filled with valuable works of art and lush natural beauty and add to the island's eerie atmosphere. The LED lights, though, are what make it so captivating.
As night falls, the island transforms magically, lit up with glistening fairy lights and vivid neon hues. They adorn the trees, walkways, artwork, structures, and even the bridge. This breathtaking display should not be missed by visitors to Al Noor Island.
The floral landscape at The Radiant Meadows commands attention by skillfully fusing technology and nature. Witnessing the 1,200 fiberglass flowers' synchronized color changes in the harmonized light. It is necessary to fully appreciate its mesmerizing beauty; it is an experience that cannot be missed.
Al Noor Island Highlights
Playground:
Families like the playground on Al Noor Island because it offers youngsters wonderful outdoor entertainment. It's a great method to keep kids occupied for hours because it has swings, slides, climbing walls, and obstacle courses.
From the shaded seating area within the playground, tucked among tables and trees, parents can easily keep an eye on their small ones. Al Noor Island has developed into a family-friendly location with fun activities for guests of all ages as a result of this design.
Al Noor Cafe:
Noor Café is the best option for a relaxing break while you are visiting Al Noor Island. The café offers a menu bursting with delectable and healthy options and is flooded with natural light. It is ideal for a leisurely supper because of its roomy dining space.
Noor Café undergoes a mesmerizing metamorphosis when night falls. It has a warm, inviting environment that is perfect for a romantic evening outing. Thanks to its well-lit surroundings and cozy furnishings.
Café Tickets:
A supper at Noor Café and an all-inclusive admission to Al Noor Island are included.
Price: 55 AED
The Noor Café is open throughout the same hours as the destination.
Al Noor Island Ticket Price:
Admission is 35 AED for individuals over the age of 13 and 20 AED for children between the ages of 3 and 12. Please be aware that the butterfly house tour is not included in this fee.
The well-known Al Noor Mosque is conveniently situated close to Noor Island's entrance and is well-known throughout the United Arab Emirates for its excellent guided tours. Direct sales of Noor Island tickets are available at the entrance gate.
You can go to the enchanted Gleaming Meadows and tour the island with the basic entry ticket. Take a stroll across the scenery, stopping to take gorgeous pictures at each new bend.
Al Noor Island Packages:
If Sharjah's ancient sites don't hold your attention, Al Noor Island offers a tranquil respite from the bustle of the city. Additionally, the island offers a variety of leisure packages that you can customize to your tastes.
Also Read: Dubai Shopping Festival
Wrap-Up:
Visit the Butterfly House if you want to get up close and personal with butterflies. Families with young children will like the playground and the island's variety of food options.
The experience and delights that Al Noor Island offers make it a good decision, even though the entrance charge and activity tickets may appear a bit pricey to some. Al Noor Island should without a doubt be on your agenda for Sharjah if you value tranquility and the splendor of nature.
Don't pass up this to visit Sharjah Desert Park as well to learn about further local family-friendly attractions.